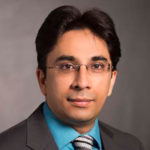 Mudasir Ahmad is a Distinguished Engineer/Senior Director at Cisco Systems, Inc. He has been involved with mechanical design, microelectronics packaging design and reliability analysis for 17 years. He received his M.S. in Management Science & Engineering at Stanford University, his M.S. degree in Mechanical Engineering from Georgia Institute of Technology and his Bachelors from Ohio University.
Mudasir is leading the Center of Excellence for Numerical Analysis, developing new analytical/stochastic algorithms, experimental design, thermal and reliability characterization of next generation 3D packaging, System-in-Package Modules and Silicon Photonics. Mudasir is also involved with implementing IoT, Artificial Intelligence and Big Data Analytics to streamline Supply Chain Operations. Mudasir has delivered several invited talks on leading technology solutions internationally.
Outside of Cisco, he is involved with programs at the Silicon Valley Chapter of the Electronics Packaging Society of the IEEE (EPS), and actively participates in IPC and JEDEC standards organizations.
He was actively involved in the local EPS chapter of IEEE for several years; holding the positions of Secretary, Vice Chair and Chair of the Chapter.
Mudasir has over 30 publications on microelectronic packaging, two book chapters, and 13 US Patents. He received the internationally renowned Outstanding Young Engineer Award in 2012 from the IEEE.
---
Keynote 1
Wednesday, September 26, 09:15 am
End to End Modeling for Power Delivery, Thermal Cooling and Reliability