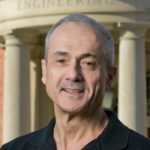 Adrian Bejan received the Benjamin Franklin Medal for "Thermodynamics and constructal theory, which predicts natural design and its evolution in engineering, scientific, and social systems".
His degrees are from the Massachusetts Institute of Technology (B.S.1971, M.S.1972, Ph.D.1975). At Duke University, he is the J.A. Jones Distinguished Professor. He authored 30 books and 650 peer-refereed journal articles, and was awarded 18 honorary doctorates from universities in 11 countries.
Professor Bejan's impact on thermal sciences is highlighted by his original methods of theory, modeling, analysis and design that today are associated with his name: entropy generation minimization, scale analysis, temperature-heat diagram, intersection of asymptotes, constructal law, and evolutionary design.
---
Keynote 2
Thursday, September 27, 08:30 am
Constructal law: Electronics cooling with freedom and evolution