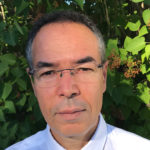 Rebei Bel Fdhila, Is a Corporate Research Fellow at ABB Corporate Research in Sweden. He is responsible for thermal management and fluid flow and acts as strategy provider and adviser for the area. His main technical expertise is Computational Fluid Dynamics and Heat Transfer.
Rebei is also Adjunct Professor in Process Modelling and Computational Fluid Dynamics at Mälardalen University since 2006.
He got a PhD in 1991 from the National Polytechnic Institute of Toulouse, France "INP Toulouse/ENSEEIHT" within multiphase flows and worked as a post-doc with EDF and CNRS in France followed by Twenty University in Holland. Since 1995 he joined ABB Corporate Research in Sweden first as a researcher and today acting in his global role as a Corporate Research Fellow in Thermal Management. He has a large experience within the advanced modeling and simulation world. 40+ publications and 11 active patent families.
---
Keynote 3
Friday, September 28, 08:30 am
Thermal Management in Power Engineering @ ABB:
Trend in the emerging simulation technologies